a Movement Medicine dance journey
through the four dimensions of love
workshop 29.04.-06.05.2023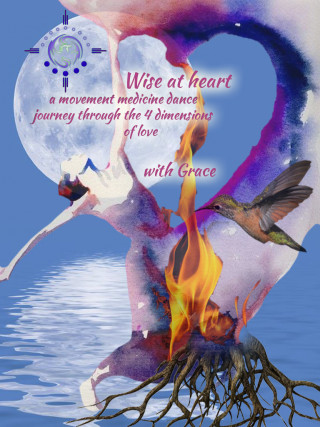 In this week we  create together a safe space in which we can allow ourselves to explore our relationship with the one thing we all want the most: Love.
We are going to use the tools of movement medicine to align our bodies, hearts and minds and reconnect with the landscape of our emotions.
While we are calling in the four elements as our allies in this journey we start with exploring how to trust the feeling of being held by mother Earth and deepen our self love.
From there the Fire of romance and passion is more easy to access. What if we dare to lighten up this one again?! The healing and cleaning power of the Water is there to support  the wounded heart in expressing  sadness and grief. And with the spaciousness of the Air we reach our souls longing and the expansion into love as the source of everything.
Always present and aware lives the wise elder in the center of our heart, witnessing our journey and teaching us compassion.
for information and registration: gracegreuner@yahoo.com
Suzanne Grace Greuner-Yona has a master in literature, worked as a journalist and became a classical homeopath. Then life guided her from the world of words and intellect to the world of silence, touch and dance. In the last 20 years, since she embarked on her own healing journey, she studied with many teachers and healers. Her life practices infuse her work . As there are shamanic journeys, conscious dance, movement medicine, vipassana meditation, holistic bodywork and process work. In 2021 she graduated as a fully professional movement medicine teacher with the School of Movement Medicine of Ya'Acov and Susannah Darling Khan. Her passion is the work with the elemental forces and the circles and cycles of life. In her Movement Medicine Moon Dances (every new moon and fullmoon) she invites dancers into ritual and ceremony. Her deep believe is that transformation and healing is happening when we start moving with the medicine of the sacred.
Grace is mother of a 24 year old boy. Since he is born she lives, works and dances at Finca Argayall.