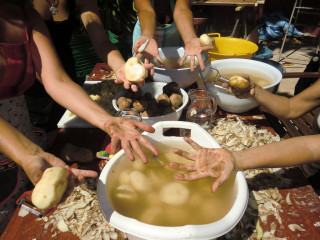 Since we live and work quite close together and share the space of Argayall with our  guests,  working in our community requires an openness towards people, clear and honest communication, the ability to work in a team, flexibility to adapt to new situations, self-responsibility and a good sense of humor.
Living and working with us means that you give 30 hours a week working in one of our departments, as well as attending our community and organizational meetings. You live in a single room (or hut in the garden) with a shared bathroom, enjoy our three daily vegetarian meals and hot drinks. And you also have access to all of our daily meditation- and yoga program, special events and a lot more. In addition you get some pocket money that increases every month. More detailed information is given when you apply.
Community life
Experience in meditation is welcome to support us in leading our weekly meditations.
Whatever your own practice is, you are encouraged to share it with us.
It is important for us that you bring an interest in exploring yourself and the different lifestyle of living in a community.
We invest a lot in developing a good communication culture and finding new ways of relating in a more authentic and healthy way with each other and with nature. If this resonates with you, you are very welcome to join.
Vacancies

Right now we are looking for:
1. A receptionist to join our guest department.  Someone with knowledge in the hospitality industry, good communication skills and computer knowledge and  good level of German and English. Someone who would like to become part of  our community with a long term perspective, is comfortable working with computers and has a good understanding of Social Media. A team player willing to learn and grow into the position, support the guestdepartment and actively contribute and participate in developing our community life, meditation and personal growth.

2. A gardener with knowledge in permaculture who would like to join our garden department in taking care for the vegetable garden, a fruit plantation and the landscape garden with all the garden related areas like composting, irrigation etc… Preferably you would bring a long term-perspective, a vital interest in community life, sustainable living and the willingness to work with a team and to further enhance our permaculture process.
3. A Handy Man or Woman with all around skills in electricity, mechanics, networks, wood work, plumbing etc… to come and work with us in our technical department. We would like to invite a person with a long-term perspective, interested in community life, sustainable living, meditation and personal growth. Your willingness to learn and your ability to work in a team are essential.
4. We are looking for a Cook with experience preparing vegetarian meals for up to 50-60 people. Someone who enjoys kitchen work in a team with long term perspective for community life and interest in meditation and personal growth is invited.
5. A person for our housekeeping  and laundry team.**You will be supporting and supervising the laundry team, washing, drying, and folding laundry, cleaning rooms and taking care of the general cleanliness of all Finca areas according to standards. We would like to invite a person with a long term perspective.
Interest in sustainable living, community culture and personal growth are key.
Volunteer program
We have started a volunteer program to share our experience and make it accessible for people with limited time. Our program is mainly aimed to young people (of all ages). It offers the possibilty to join us fully as part of our community, to work, play and create together this journey of self-discovery and personal growth. Come and join us. Send us a brief CV with a recent photo, tell us something about yourself and give us a time frame for when you would like to be here. We will send you some extra information about volunteering at Argayall and hopefully we can make it happen.
Minimum stay is two months. You will learn to support the different departments as :
Kitchen helpers

Laundry and room cleaning helpers

Helpers for the permaculture garden
English speaking is required for all positions.
**= NOT AVAILABLE AT THE MOMENT!
If you are interested in joining our community, please send an application (in English with CV and recent picture) to our crew manager Tameer: crew@argayall.com