From August 1st till 29th 2020 we planned to offer a month long work & study educational program for young adults.
Due to Corona we had to postpone it.The new dates are clear now: 14th of August till 11th of September 2021. The invitation stays valid:
If you are curious about what it means to live in community, to grow your own food in a permaculture garden, to cook healthy and tasty vegetarian meals, to meditate, to dance, to connect with nature and with each other and investigate what may be your purpose in life, then you might want to come and join "Argayall Experience".
For this pilot month we invite a group of  15-16 young people to live and work with us at Argayall and journey together through all 4 weeks with a different elemental focus. The idea is to learn while working, to get regular teachings and some intensive workshops and to create an own group circle, working out some basics of community together.
Work: Everybody of the work study group will work 4 days for 4 hrs (= 16hrs per week) at the same time, so the scheduled meetings can be attended by all. The departments you work in will be garden, kitchen, technical or laundry, depending on your interest and skills and our needs.
Study: The four weeks will be divided in two parts of two weeks. Each with two leaders co-creating the program and leading and focalizing.
The first two weeks the focus is on the elements of  Earth (Grounding and Self Love) and Fire (Intention and Communication, relationship). Grace and Tameer will hold the space for this journey and guide the group through meditation, Movement Medicine, rituals in nature, sharing and group process.
Our regular meditation and yoga program with a focus on these two elements will be open for all (guests, crew and work-study group).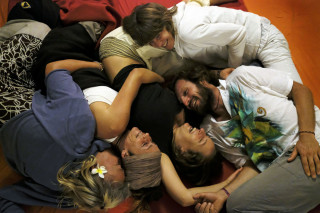 The weeks three and four are dedicated to the elements of  Water (Emotions, Touch and Community) and Air (Soul and Vision). Dani and Marco will be teaching and guiding the group through meditation, transformative touch, sound healing, rituals, a sweat lodge, a mini vision quest as well as sharing and group process.
Also in this time our regular meditation and yoga program will focus on these elements and there the group can share their experience in the wider circle of the whole community.