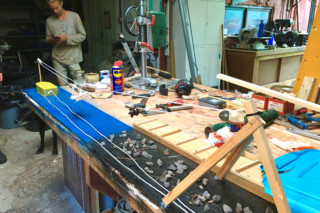 We have good news: the government of La Gomera got a budget of Euro 300 000 and decided to invest it into a boat transfer between the harbor of Vueltas and the beach of our Argaga bay. It will be a transport boat from a company in Tenerife, which will just need a ramp to be able to land and bring goods and people. When exactly this will start to operate is still unclear.
After over four months of being on our own and improvising our "ocean shuttle"with dinghis and a small boat on a cable pull, we are carefully optimistic. And we continue to work on our own solutions.
Here you see a model of the latest idea of  John: A cable pull system to unload the shopping more safely, so that our young Joshua does not have to fight with the waves anymore.