One year after the landslide all of us who live here in the bay of Argaga ( vecinos de Argaga ) we still do not have a regular access to our homes and businesses.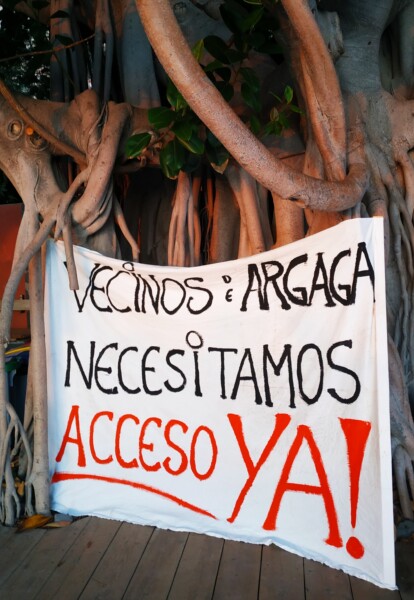 From the politicians and the administrations we have got nothing but nice words and lot's of promises. Even though according to the law the government is obliged to provide us access, they do not seem able or willing to do so. On the contrary: at the end of the road near the beach of Vueltas they locked us in, building a wall and putting up fences with chains and locks.
Particularly for emergency and rescue transports we need the road. And it should be made more safe for this. The mountain has to be stabilized , but they do not even want to talk about that. We already had two emergency incidents and after calling 112, they did not send any help.
Therefore in a slow and tremendous and constant effort there was a path created over the pile of rocks, so that people could be transported out in case the waves are too high and don't allow sea access.
This will be the case in the winter which is coming. Which means also the people living here will not be able to get in or out of the bay of Argaga.
After one year they were not able to provide us with an alternative access to our homes.
We need this acces now. This is what this banner is shouting out to all the responsable people and the world.
We have handed in a petition to both the majors of Valle Gran Rey and Vallehermoso and the island president, Casimiro Curbelo, signed by all of the owners here.
We made a statement for the TV Canarias and sent out a press release.
On November 15th, 2021 they brought this in the evening news: