On Saturday, November 14th, in the afternoon, in a dramatic landslide the cliff face above the road to our finca collapsed completely blocking the road.

The video that document the horrible moment traveled around the world wide web already. We are very grateful and in awe about the magic of timing as no one got injured and we could report to all who have asked: We are fine.
Meanwhile, after the cloud of dust is gone, the rescue helicopters and expert drones as well, we face the situation: We are locked down by nature.
We are and will be for quite a while cut off from any access by foot or car.
And the only way to bring people or supplies will be over the ocean.
Video:
Our own solution for now: ocean shuttle
Entering one boat at the shore, changing over to the zodiac further out and getting shuttled with the sailor to the harbor of Vueltas  is the only way now to get out or in from the Finca.
This is getting easier the more we get used to it and we are collecting photos which we will post on this website soon. It looks romantic in these good weather conditions. The winter ocean will make it more adventurous. For sure this can only be the first solution.
What we need right now is a better solution for the months to come and maybe a really good one for the future. The officials have made already several promises to support.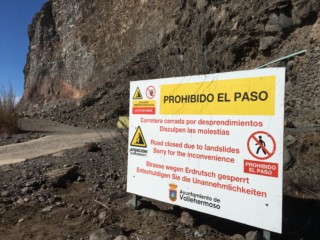 All that has happened so far: They shipped in and put up a sign. The road is closed.
How you can help
Every evening at sunset we are gathering now for a silent prayer meditation. Looking out and looking in. All that has been created here at our paradise is still as beautiful as ever.
The place of light is and will be a place of coming together, of inspiration and of healing.
We are convinced that especially after the Corona Crisis, places like ours will be more needed than ever. We just have to make it through this time and keep our project alive.
Many of you have kindly asked how they can help.
Well it's very simple as what we really need at this moment are donations of money as we are already running on reserve after the pandemic and we do not know how long it will take to find a solution to this new problem. The reopening of the road or building of a small harbor will need some time but owning a boat would make our immediate problems a little easier.
There is the possibility to donate to our Association. which you can do by clicking here or which is better for bigger amounts make a bank transfer. Details will be provided.
A group of Finca friends are in the middle of creating a crowdfunding site and as soon as it`s ready we will post it here on our website.
We would like to take this opportunity to thank all of you who have or are going to donate, and we look forward to seeing you again here on Argayall in the not so distant future.