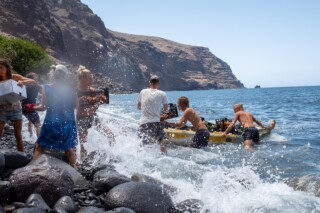 Nine months after the landslide we still have no official solution for a connection between the harbor of Vueltas and the Argaga beach.
Time enough for a human being to be born. And we are still waiting for realistic steps to be done…..
We keep operating our private small ocean shuttle to bring in all the people who support us. And all our supplies.
It still is an adventure and very demanding for all.
Many friends and guests find their way and help us. We are grateful and want to let you know: We will keep going !
We will keep this project alive and start something new. For and with you.